The Straits Times Run will take place on 23rd September 2018.
The Straits Times Run is unique and memorable because of the 18.45 KM category which celebrates the founding year of The Straits Times newspaper.
If you are someone who is targeting to finish this race in a certain time or looking for that extra push to the finishing line, we have just the right group of runners who can help you do that. They are the Straits Time Run Pacers from Running Department.
Here are some questions you may have about Pacers.
Who are Pacers?
By definition, a "Pacer" refers to a person (runner) who sets the pace in a race.
What distances are they running?
10 KM and the iconic 18.45 KM
What are the pace groups available for runners to follow?
10 KM
60 Min – 6:00min/km
70 Min – 7:00min/km
80 Min – 8:00min/km
18.45 KM
1 Hr 40 Min – 5:25min/km
1 Hr 50 Min – 5:57min/km
2 Hrs 00Min – 6:30min/km
2 Hrs 10 Min – 7:02min/km
2 Hrs 20 Min – 7:35min/km
Note: The timing here refers to the target finishing time.
How do I find them?
One can hardly miss them – their medley of brightly-colored balloons, encouraging cheers and the word "PACER" on the back of their tees makes their presence apparent.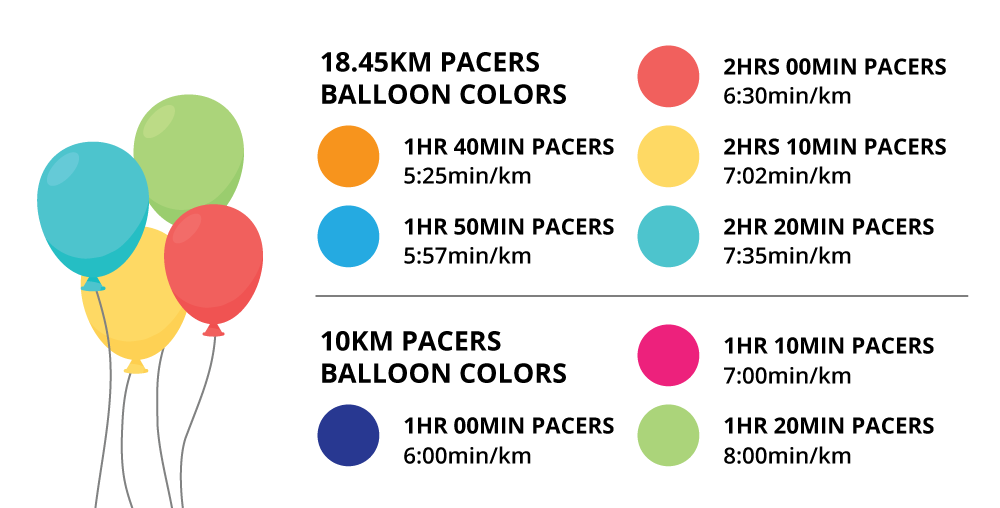 Do they run at an even pace throughout the distance?
Yes, they do. You can find profiles of our friendly pacers including the distance they are running here
What is the best way to take guidance from Pacers whilst running?
People have different strategies. Some choose to simply follow them, which ensures that they do not have to look at their GPS watches and worry about missing their target time, while others may use them as a guide. For example, runners who aim to finish under 2Hrs 10 Mins, may tell themselves to finish ahead of the 2Hrs 10 Mins pacers or you may choose a pacer group and strategise to not fall behind them. Pacers undergo training over weeks which allows them to run comfortably at their designated pace and still encourage other runners.
Join our 18.45 KM and 10 KM pacers on 23 September 2018 to help you race towards the finishing line.
See you there!