We're officially in October and that means – we're inching closer to the big race that many of us are training for. Here are 10 things you need to know to join us – in case you're still contemplating joining us!
1. We run twice a week!
Running Department run twice a week on Wednesdays evening and Saturdays morning, so there are no excuses not to join us!
On Wednesdays evening, we meet at 7 pm at UOB Plaza, Raffles Place to run distances between 7km to 10km long. Route varies each week but we try to mix things up to include routes to Gardens By The Bay East, Marina Barrage, Marina South Pier and Fort Canning. Depending on the specifics of each session, we often mix it up with hills training (Marina Barrage or Fort Canning loops) and strength training (circuit-style workouts).
On Saturdays morning, we meet between 6 am to 7 am at East Coast Park, Parkland Green to do long-distance running that's between 12km to 33km in distance. Meeting time ranges from 6 am to 7 am and distances vary and it's dependent on the training programme that we have planned out for each race.
On other days such as Public Holidays, we organise holiday runs too so keep a look out on our social media for updates!
2. Newbies can run 5k
New to us? Don't worry! You can join our 5km group that's specially catered for runners who are new to running! There's always a first time to everything and we are confident that our run crews taking care of the 5km group will ease you and get you ready for a running adventure with us!
3. Different Pace Group Options
To cater to runners of various running capabilities, we have run crews leading different pace groups on Wednesday and Saturday so that no one's left out from each session!
On Wednesday, our run crews will be leading pace groups ranging from 5:00min, 5:30min, 6:00min, 6:30min, 7:00min and 7:30min. On Saturday, as we are currently training up pacers for SCSM2022, we have pacers leading pace groups for marathon finishing timing of 4hrs 00min, 4hrs 30min, 5hrs 00min, 5hrs 30min and half marathon finishing timing of 2hrs 00min, 2hrs 15min, 2hrs 30min and 2hrs 45min. The pace group in hours translates to the following pace per km:
Full Marathon – 4hrs 00min / Half Marathon – 2hrs 00min – 05:41min / km
Full Marathon – 4hrs 30min / Half Marathon – 2hrs 15min – 06:23min / km
Full Marathon – 5hrs 00min / Half Marathon – 2hrs 30min – 07:07min / km
Full Marathon – 5hrs 30min / Half Marathon – 2hrs 45min – 07:49min / km
4. 33km will be our longest run
As we are training for SCSM2022, our pacers will be doing longer runs that are up to 33km long in distance! You can check out our full training calendar from October 2022 to December 2022 here.
5. We run in loops
33km run on a Saturday morning? Somebody send HELP!!!!
To help runners adapt to the long distances required for each training, we have designed our long runs such that we will be running in loops of 6km, with the start/end point located at the 3km mark. This allows runners to adapt and adjust to the distance that they would like to complete without going on an out-and-back run. Runners can choose to do 6km, 9km, 12km and so on depending on their training progress.
Yeah… we know it can get boring but with good company, time and distance pass by so quickly that before you know it, you're DONE! So the next time you see a long-distance run in our schedule, just come and run. You choose the right pace group and distance that you would like to complete.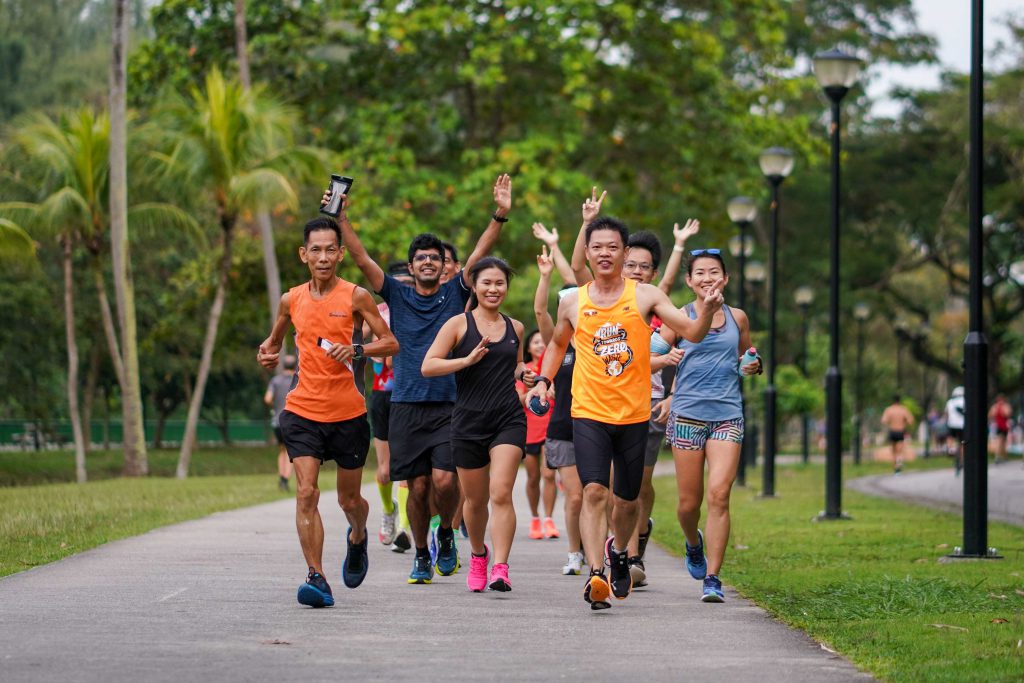 6. Travel Light and BYOH
As a running community that's for runners by runners, we do our best to facilitate each run session for runners through the help and support that we get from our run crew and volunteers. We're not a business and hence, the support begins with you. While we provide baggage drop and hydration from time to time, runners are also advised to travel light and to bring along their own hydration. We may not have sufficient hydration to support everyone as our run session is a free-for-all to attend and we do not limit the number of runners that we are accepting. Hence, hydration may run out from time to time.
So it's best to bring along your own hydration. Having said that, we would like to also thank our run crews for offering their car space for baggage deposit and our hydration partner – 100Plus for fueling us up with 100Plus Active and Ice Mountain!
7. Get guidance and advice
"If You Want To Run Fast, Run Alone. If You Want To Run Far, Run Together."
Just like the African proverb, when you run together, you're not just gonna run far, but stronger and better! When you run in a community, you get to pick up tips and advice from fellow like-minded runners. From the latest gear review, and race-day hydration advice to sharing of experiences from overseas races, there is just so much you can learn from one another when you're running together in a community!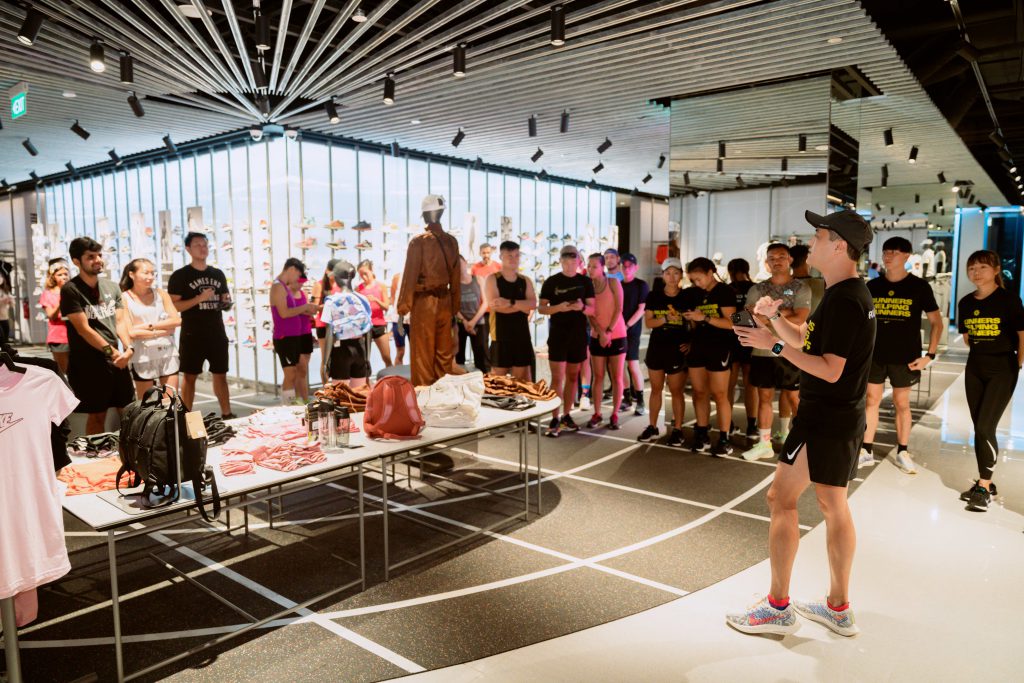 8. Standby to RSVP for SCSM Training Runs
Be sure to RSVP for a slot when you're joining a training run that's jointly organised by Running Department and the organisers for SCSM2022! There are a total of 8 sessions (4 upcoming) where RSVP through our "Train With Us" portal is required. You can refer to this article for the list of training runs where RSVP is required.
9. Safety First
The safety of all runners is our top priority.
In the event that you're not feeling well, listen to your body and take a break! There's always another opportunity to run with us. Let's all work together to be socially responsible adults and to help keep the community a safe one for all runners.
At the same time, we would like to also remind all runners to keep to a maximum of 2 abreast when running with us, especially at East Coast Park where it's a shared public park. Let's ensure that we do not hog the pavement, keep to a maximum of 2abreast and give way to fellow runners who may be coming your way. The running pavement can be a bit narrow with the crowd that we're getting, alongside other park users and runners who are doing their own exercises.
Tip: There is no need to run beside our pacers. As long as you can see them, even if you are several meters behind them, you will still be keeping on pace. And if there is less crowding around the pacers, we are less likely to step on each other's heels and have more time/space to react to any situation (stepping over puddles, going around an obstacle, going up/down a curb, etc).
10. It is free!
We are a running community for runners by runners. It is 100% free to run with us! There's no membership required to run with Running Department. All you need is some courage to show up, say hi, introduce yourself and let the run do the magic!
Here's a bonus. Prepare to make new friends!
Running is not just about running. Running is more than just the action itself. Be prepared to make new friends along the way. Our runners are very friendly and welcoming and we are an inclusive running community. We have seen many runners forging new friendships through their running journey with us!
We hope to see you at our next run and if you happen to take some photos, remember to share them with us on our Facebook or Instagram @runningdepartment.