It has been a great running year! From the countless Train with Us runs at East Coast Park and Raffles Place UOB Plaza, to exploration runs at various locations, and the 4 major pacing assignments successfully executed. We thank each and everyone for lending their unwavering support in making every event a memorable and happy one. 2018 was fabulous because of our sturdy community spirit.
As the year draws to a close, our last feature of 2018 is dedicated to the man behind it all, founder of Running Department, Terence Teo. Some of us have known him since day 1 and hold him dear to our hearts, while some may only know of him as a legendary fleeting image. Trust us, he is by no means fleeting. In fact, he is the brain behind most, if not all of RD's projects. We hope that through this Feature Friday, you can get to know him better!
A very hands-on Terence at the Support Station.
For the benefit of those who don't know you well, tell us a little bit about yourself!
Hi Guys, I'm Terence (some call me Terry). I started running 10 years ago to lose weight. Managed to lose some but starting to gain some back 10 years later. 🙂 I'm quite a workaholic (if you still don't know by now) so most of the time you find me OT-ing in the office or at home but I also enjoy Netflix, household chores (yes, that's how I destress) and my coffee date.
I like to bake (if I have time) and sleep (like really!)
A cake baked by Terence for Mother's Day! ♥
Photo Credits: Terence Teo
What does a perfect day look like for you?
Wake up, go work, knock off early and to be able to go run, catch an episode or two on Netflix and sleep.
If there is a newbie who joins RD runs, give us a clue how he/she can recognize you during the runs?
I am always with my cap. (if that helps?)
What is your hobby? Is it running!

Running is definitely something I enjoy a lot. It allows me to take time off and clear my mind!
You can't run without….
My phone!
Morning or evening runs?
Evening run! Just can't wake up early to run except for pacer trainings.
Speed or distance?
Distance. Definitely not looking at speed at this juncture in life. Have done the speed stuffs and I guess it's really a lot more about the distance and the quality time I spend with my crew, runners and friends.
What is your fav phrase?
It used to be "Last Warning" but these days my teammates at work say its "Basically…"
We all know, and lucky you if you haven't heard him say "Last Warning" before…
What do you enjoy more your day job or RD work?

Both! They are two sets of different challenges that I face on a day to day basis and they both kinda give life a bit of a balance (except now that work is kinda overwhelming but I look forward to changes in 2019!)
If you didn't run RD pacing program what would you be doing?
I believe I will still be looking at ways on how RD can help runners. Pacing is a part of what we do but I believe the journey with the runners goes beyond just pacing. I do want people to join us because they can also make new friends, create new journeys and improve their fitness along the way. That was how I started when I joined a running group. It gave me a new perspective in life I would say with new friends around me who share similar passion and interest.
Share with us your most memorable pacing moment.
Every pacing event is unique in its own way and they are all very special moments to me. I don't think there's one that is super memorable as with each pacing event, I get to recruit, interact and understand different individuals coming together to achieve the same goal which is to help fellow runners in the community achieve their targeted timings.
What is your biggest challenge from recruiting the pacers to getting them to finish a pacing assignment successfully?
HAHA! Let's talk about recruitment first. It's definitely challenging to recruit for pacers these days. There are so many races in Singapore that require pacers and our pacing program usually requires pacers to fulfil a set of requirements and commitment. To a lot of them, this kinda shuns them away as not everyone is ready to put in so much effort for a race. However, for us, that time and commitment is very important in ensuring that our pacers can deliver what they have set out to do right from the beginning. So yup, recruitment is a challenge and we really hope that we can change the perspectives of runners on this.
After we're done with recruitment, the next hurdle to tackle would be the groupings. It's never easy to put people from different walks of life together. We do encounter "hits and misses" but we learn from that. Ultimately, the pacers themselves would need to learn how to work within their team to ensure that there's communication between them.
Next comes the training, coordination and eventually the race day execution. I can say that this is not as simple as just putting a date and venue, getting everyone to come together and then we run. There's coordination work between all our various sub-departments (yes we have departments like logistics, training, social and etc) to ensure that each training runs smoothly. It doesn't help that my work gets chaotic at times but thankfully, I have an awesome team to ensure that everything runs smoothly. So a lot of credits goes out to this group of people who made each pacing assignment successful.
How did you manage to successfully pull off such a marquee pacing program for SCSM?
It comes with a lot of experience when it comes to managing a full marathon pacing event. I have been doing this since 2011, back in the early days when I worked closely with Sports Singapore and Ben Pulham from Coached to formulate a pacer programme for an event like SCSM. Of course, we fine-tune after each season, gather feedback through surveys and seek ways to improvise it such that everyone gets a positive experience – be it coming from the runners or the pacers.
In fact, we're still fine-tuning after my 8th year managing the SCSM Pacer Programme. We're constantly looking at ways to improve the training so that we can put in some flexibility for pacers but yet ensure that they have done their training proper leading up to race day.
All these improvements are done through years and years of experience managing the programme.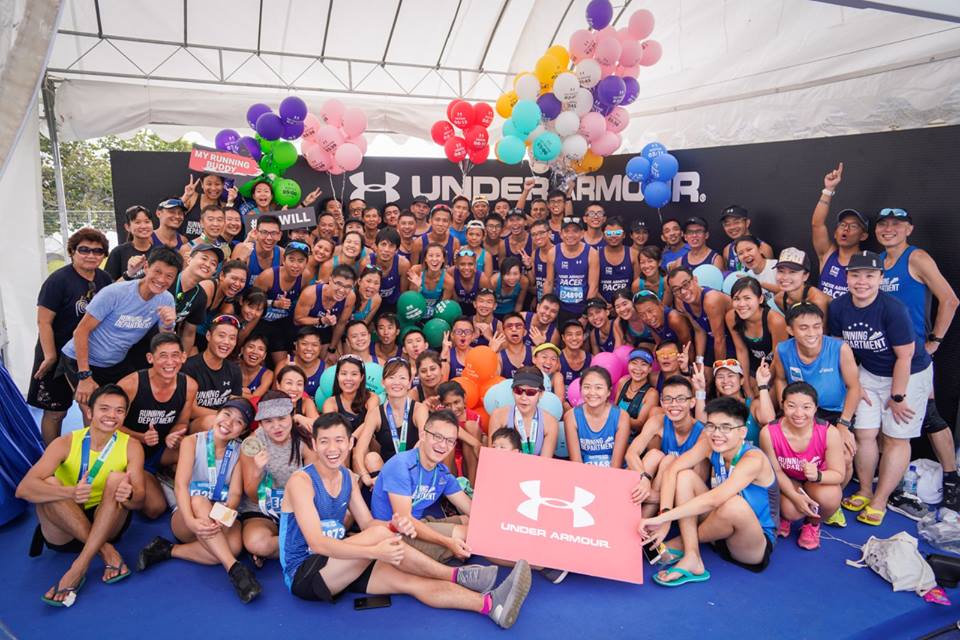 Happy faces after a successful SCSM 2018 Pacing Assignment!
We know that there are quite a few upcoming pacing assignments in the pipeline in 2019, what is that one thing you are looking for in pacers?
Their Commitment.
I believe that with their firm commitment, everything else will fall into place. Be it training runs, engagement with public runners or them doing their own training, those will eventually come into play.
It's never easy trying to keep up to a training programme, keeping your Wednesday evenings and Saturday mornings free for runs, spending other days doing your own training and having to skip some of your favourite races. It's a huge huge commitment but at the end of the day, it's for a worthy cause, isn't it?
We are currently recruiting for our first-night race pacing project, please click here to sign up today!
What are your hopes and aspirations for RD in the coming year 2019?
We have definitely come a long way since starting out in July 2013, ensuring that there's proper alignment on the ground, with the crews and to make sure that we are always that no-frills, free and easy running community for runners.
In 2019 and beyond, I definitely want us to be the same old running community for runners by runners but yet constantly evolve the way we do things so that we can improve the experience for both our crew and runners. I do hope I can have more time to plan other activities for our own crew and to roll out more initiatives for the community.
Train with Us was an initiative by our crew and I look forward to improving this in 2019.
Running Department doesn't charge any fees for the runner to join the community. How do you sustain such a large community?
To begin with, we don't charge any fees because I strongly believe that running should be free and accessible to all. We're able to sustain and continue doing what we are doing because of the support that I get from my fellow crew members. They put in a lot of their personal time while trying to balance out their own work and family time to help me with all my crazy ideas and initiatives.
A lot goes behind the scenes, from the logistics department working with our race partners to collect, store and bringing hydration down from their own home (imagine carrying cartons and cartons of drinks just for 1 run), to the training folks meeting up regularly to plan for training programme, plotting and doing recce for potential routes.
Not forgetting the people who wrote interesting articles and content that we hope can help raise awareness of our pacing and community give-back efforts.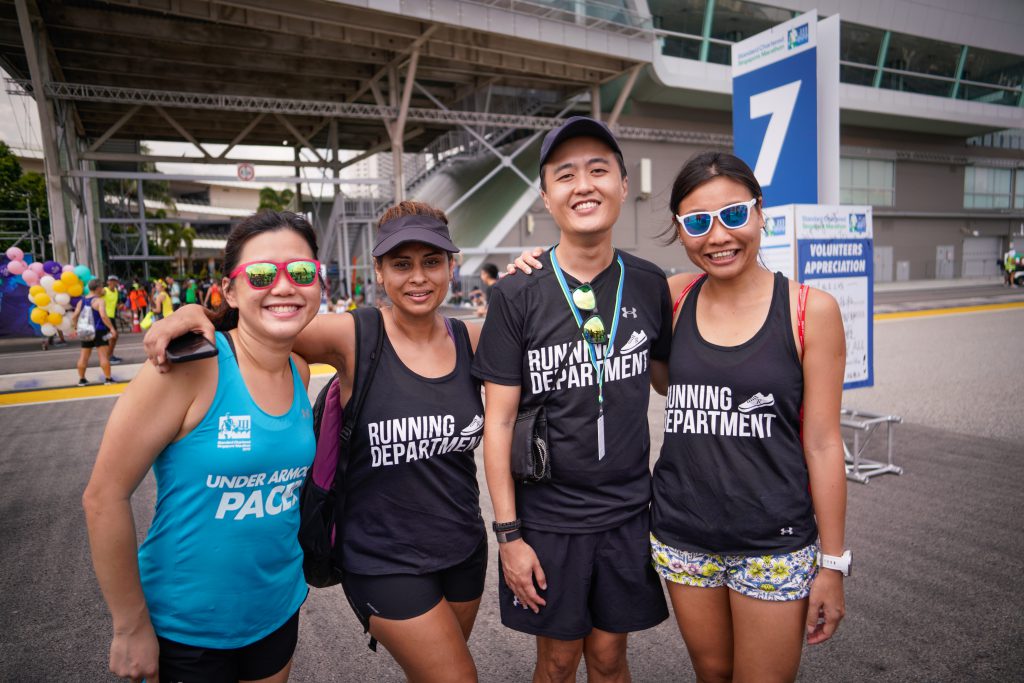 Oh yes, he's talking about us, the Writing Department! 🙂 From left: Hermione, Anjali, Terence, Gladys.
What are you most looking forward to in 2019?
More holidays! HAHA, I definitely want a good break from everything but that aside, I am looking forward to another exciting year in 2019. I hope to be able to spend more time on Running Department and to be able to know more runners!
Your dream holiday destination?
There's a lot in my list you know… just waiting to execute them. Any sponsors?
So there we have it, Terence Teo. It is his vision that gives us the head start to future every single time. Do PM us at our Facebook Page should you have more burning questions for the man himself, we might just write another article… sometime in the near future!
Feature Friday signing off for 2018! Have yourself a Happy New Year!