Mathilda was a pacer for Running Department at last year's Straits Times Run, and was also a pacer for the same event in 2018!
Running surely is Mathilda's secret tool to looking and feeling young, mighty and spritely! She is a mother of 2 little girls (though she looks like a little girl herself),
Having taken a big hiatus from running after the birth of her girls, she rediscovered her love for running once again in 2018 and is now running on a regular basis once more!
Mathilda completed her first marathon in 11 years in December last year and came back stronger than ever. We love her fighting spirit and have witnessed this firsthand, whether through pacing or racing – and it definitely was not easy for her to start running again, but she did! We talked to Mathilda to find out more about what defines her and how she slowly made her way back to the sport!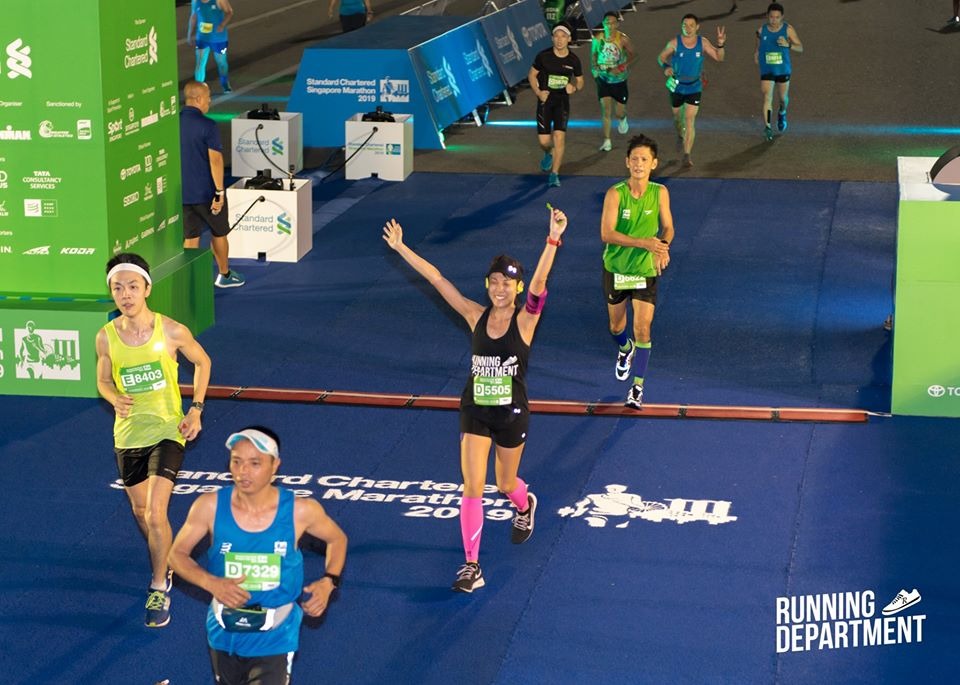 Mathilda's look of complete joy as she crossed the finish line of her first marathon in 11 years! What a feat!
RD: Tell us more about yourself and the things you enjoy doing.

Me: I'm a mom of 2 lovely little girls and have been in the banking sector for the past 11 to 12 years. I love going outdoors for runs, travelling overseas and growing my own herbs, vegetables and flowers. I like acrylic painting so I paint all the decorative canvases that are hanging at home.

RD: What inspires to run? What do you love about running?

Me: I love to eat as well so food is my inspiration to run. Running is a highly personal sport where you challenge yourself to improve but yet you can run with a group of friends too. I love that it is a sport you can go at your own pace and celebrate personal bests with likeminded running buddies, encouraging each other and being happy for each other's achievements.

RD: Why run with Running Department? How did you first start running with RD?

Me: I used to run actively during school days but left off running completely for 10 years after I completed my first 2 full marathons in 2008 and when kids came along. I wanted to return to running again in 2018 and a friend told me to ask Ying Tian about joining a run club and how to be a pacer subsequently. Ying Tian told me to come to UOB Plaza on a Wednesday evening at 7pm and I joined Terence Low's 7 mins group. After which, the rest is history.
Running Department was a community that Mathilda stumbled upon, and has helped her find her passion in running again.
RD: Pick three songs that you would listen to while running.

Me: Bebe Rexha's "I'm a mess", Coldplay's "I want something just like this" and The ChainSmokers "Closer" ft. Halsey

RD: Any races that you have done recently? What was memorable about these races?

GEWR, SG Run and SCSM last year. I clocked my personal best of 1h 57 min for GEWR HM (where the distance was a full 21.1km). The SG Run was my very first 32km race which I came in 7th. SCSM was the 2nd full marathon after my 11-year long hiatus from FM races and I did a personal best of 4 h 44 min. It was a big improvement from the previous SCSM which I took 6 hours to complete.

RD: Any quotes (related or unrelated to running) that you live by?

Me: Only you can determine how far you want to go, how fast you want to go and how much you want to achieve for yourself. Compare only with yourself.

RD: If you could one food item only for the rest of your life, what would it be and why?

Me: Pasta. It is never boring because there are so many sauces, meat and seafood you can eat it with. Good for carbo loading too.

RD: Do you do other sports apart from running?

Me: I swim whenever the kids go swimming and do some yoga at home though I am stiff as a scarecrow.
Mathilda has been involved in RD's events ever since she rediscovered her passion for running, and she has found a warm and accepting group that made her venture slowly and surely back into this community. We love her energy, one that she channels wholeheartedly into running and mothering, among other things. This hip mum of two is indeed a force to be reckoned with!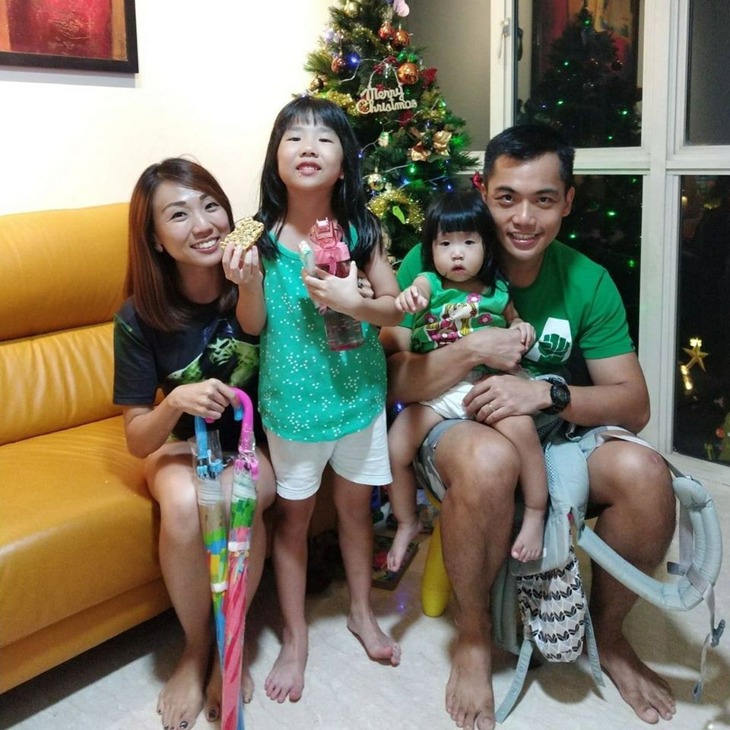 Mathilda and her lovely little family celebrating Christmas!