Are you gearing up for the marathon event of the year – Standard Chartered Singapore Marathon 2018?
Over the past few weeks we have seen an increasing number of public runners training with the SCSM Under Amour Pacers from Running Department. If you have missed out on training with the pacers so far, fret not, you can join them on Wednesday and Saturday for weekly training. You can find details here.
Leading up to the race day we will be introducing you to all our SCSM pacers but in this Friday Feature we throw the spotlight on our eldest and amazingly fit Ho Boon Kim ( aka Ho or Uncle Ho), one of our half marathon pacers for the 2 hrs 45 min group.
At the first glance, you will not guess that Uncle Ho is 65 this year. His fitness level is commendable.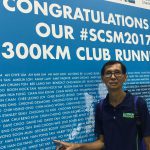 Uncle Ho is currently enjoying his retirement and living a fit life.
Here are some questions we asked him about his love for running, the races he runs and his must dos before and after the race. Enjoy getting to know Uncle Ho.
1. Tell us something about your running journey. How did it start and what kept you going? 
In early 2000, I started running at the MacRitchie Reservoir every weekend to keep fit. Subsequently, I participated in races, doing more than 10km to build my stamina and finally I challenged myself to do a half marathon.
Since 2010, I have participated in many half and full marathons, such as the AHM, Income Eco Run, 2XU, Sundown Marathon & SCSM.
In 2011, filled with anticipation & determination to do a full marathon, I participated in my 1st SCSM full marathon & since then I have been running the SCSM full marathon every year.
2. What is your most memorable race and why?
My most memorable race was my second overseas race – Chiang Mai Marathon 2017. I achieved my PB for my full marathon in that race.
3.What motivated you to join SCSM as a Pacer this year?
After training with Running Department for a few years, I was able to achieve a consistent pace & good timings for my runs. Hence, I wish to contribute back to the running community by engaging and encouraging runners to finish their race strong.
4. Any must-do routine, before and after a race?
A good sleep before the race as well as a recovery routine post-race are a must for me.
5.Give us a motivational mantra/quote which you live by!
Racing is not always about winning, It's about finishing the race.
We hope Uncle Ho's running journey has inspired you to shake the dust off your sneakers and head for a run.
See you at the races!