A bit of background
I've been running for about 10 years but only recently started running in Nikes. I like light racing shoes with a bit of stability. It's a bit hard for my wide feet to fit into most Nikes, but my recent experiences have changed my perception.
I had a terrible fall and injured my knee in March. This pair of shoes has been a great help in getting me back on my feet. I was swimming for weeks as I couldn't bear any impact on the bruised knee. I believe the shoes were provided just the right level of support and cushioning as I slowly rebuilt strength around the knee and increased mileage.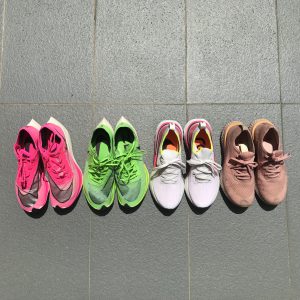 From left: ZoomX Vaporfly Next% (Pink, Green), React Infinity Run, Epic React Flyknit II
Nike ZoomX Vaporfly Next%
Ever since I discovered the Vaporflys, I have been a big fan of them. I raced in them in Standard Chartered Marathon Singapore and finished in 3:33, my fastest ever marathon in Singapore. I had noticed in my weekly "marathon-effort" training runs, there is a difference of about 20 sec/km with and without the Vaporflys. No, it is not psychological. Weekly marathon-effort based runs are probably a better gauge for fitness as they are not impacted by race conditions.
Nike React Infinity Run: first impression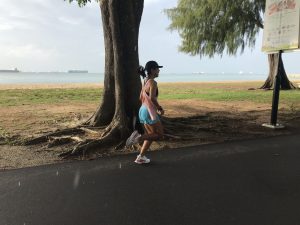 I am grateful to have the opportunity to try out the new Nike React Infinity Run. I was curious about these as they were designed to reduce common overuse injuries.
These shoes provide a soft and smooth ride straight out of the box. I noticed the stability from the wider footprint straight away. The pink plastic bar that runs from the heel to forefoot also does a great job at supporting my arches. I found running in them quite reassuring – the softness makes long running very comfortable while the stability guides my feet and prevents side to side wobbling.
Nike ZoomX Vaporfly Next% vs React Infinity Run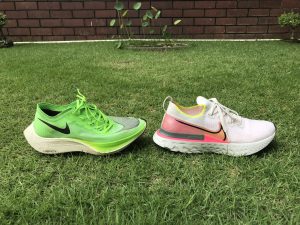 I thought it will be nice to compare it to my race favourite.
Fit-Feel-Ride
The Next% feels restrictive for my toes. They are a bit uncomfortable at the start of each run and start to ease up only after a few km. The React Infinity, however, has a wider fit and feels right from the start. It uses a stretchy mesh upper that wraps the forefoot like a sock without the tightness of a racing shoe.
Similar to the Vaporfly, the React Infinity has an exaggerated heel to toe "rocker", which creates a natural forward propulsion. It encourages a slight forward lean which I have come to enjoy from the Vaporflys. I also really like the softness that both shoes deliver.
As a training shoe, it delivers everything that I've dreamt of. It has great cushioning while providing a stable and secure ride which makes it perfect for base running and moderate effort runs. It does feel heavier and more clunky than the Vaporfly, but that's an expected trade-off as it is meant to be a training shoe.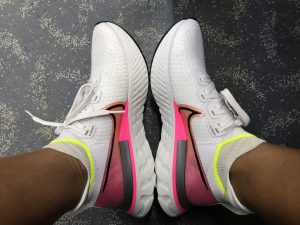 Pros:
Soft and bouncy making it very comfortable

Fluid transition from heel to toe through the "rocker symmetry"

Fits wide feet while feeling snug

Very stable through the wider platform
Cons:
Doesn't inspire any speed
Conclusion
This is going to be my workhorse – the shoe for easy runs, recovery runs and long run – excellent for fun running with friends, when the pandemic ends. It's a great complement to the Vaporflys which are reserved for tempos and racing.