Many of us from the Running Department took off to Malacca last weekend to eat endlessly, stroll aimlessly, bond lovingly and to participate in the 22 KM Skyhawk Nature Run 2020. A trip that has etched it's memories for us to revisit fondly and frequently.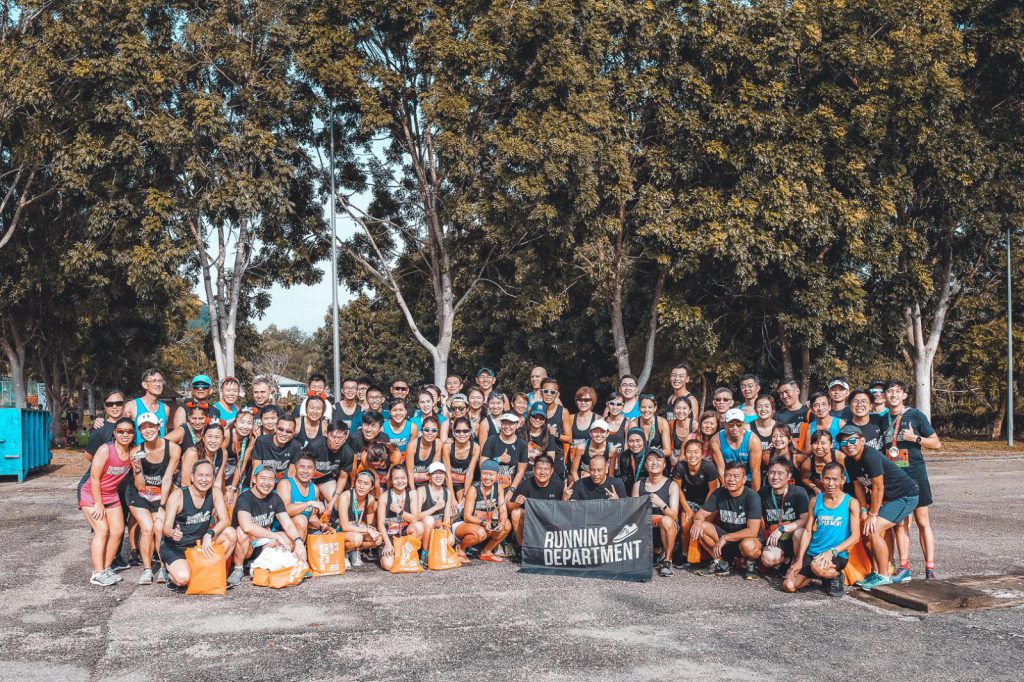 And aren't we chuffed to share that four of our RD gals raced to the podium victory during the Skyhawk Nature Run.
Heartiest congratulation Soo, Victoria, Chew Peng and Wei Mun. Go the RD Girl Gang!
Three of them, Chew Peng, Victoria and Wei Mun answered some of our burning questions.We deliberately did not ask Soo any questions this time because it is not uncommon for Soo to stand on the podium and share her wisdom with us.
But we must start by saying, " we are so proud of you Soo!" 
But today let us hear fresh perspectives from Chew Peng, Victoria and Wei Mun
1. Why did you sign up for Skyhawk and was this your first time running Skyhawk Nature Run? 
Victoria: Signed up for Skyhawk as a runcation to spend time with friends, sightsee, indulge in local delights and do what we love, what brings us all together – RUN.
2. How did you train for this run? 
Chew Peng: I didn't exactly train for this run; more of incorporating it as part of my marathon training for other races. I'm currently doing the Hanson's training plan.
3. Do you do strength training as well or just running ?
Chew Peng : Strength training is part of marathon training so the answer is, yes. I usually strength train on my rest days #strengthsunday. No fancy fitness centers just my good old dumbbells at home.
Victoria : Yes I do, I believe that a strong core is important and it sets the foundation for all sports.
4. What was the best and the worst ( if any ) part of Skyhawk?
Wei Mun: Skyhawk is really well organised. It really feels like a Kampong fun run where we get to witness chickens crossing the roads and friendly villagers cheering us runners. This year we were lucky to have a cooling weather too. The hard part was never ending slopes, hilly terrain.
5. Did you expect to get a podium ranking? 
Chew Peng :To be honest, this race came off as a training run for me which probably explained the no pre race jitters. Hence its an added bonus and confidence boost for me. I also like to give a shoutout to Wenjie, Weimun and Minhan who ran along side with me in some parts of the run. Their presence definitely helped give that extra boost.
Wei Mun: No I did not. I was just trying to run as fast as my body can tolerate because not all days are good day for me. I guessed I was just lucky!
6. Did the unexpected rain distract you?
Chew Peng : Never a person who likes running in the rain and the moderately heavy rain made the close to pitch dark roads even more daunting albeit it cooled me down and probably helped making the run more bearable
Victoria: Yes, it was very distracting. But on the bright side, it took away the heat! You lose some, you win some 😅
7. Do you eat before the run?
Chew Peng:  Yes, I can't do a long run without food and a bread lover in me will always choose bread as the source of fuel. I remember we rampaged through the whole family mart the night before for all possible kind of breads we could find.
Victoria : Yes, bread has always been my go to.
Wei Mun: Yes! it is a must for me to eat before I exercise.  I had a chiffon cake and 2 packets of milk cereal biscuits and plenty of water.
8. What advise would you give to anyone who also wants to get a podium at skyhawk?
Chew Peng: Make hills your training playground and you will be thankful on race day. Most importantly enjoy breezing through the nature 🙂
Victoria :Run with no expectations! And just go with the flow and let your legs do the work!😬
Wei Mun: Get the males to pace the females. Running together will bring you faster and further.Special thanks to Wenjie, Chew Peng and Min Han who ran with me to assist me to get a podium at Skyhawk.
Thank you Girl Gang for shining and making us all so proud!
Running Department has leaped its way in to the New Year with some great fun, company and wins. Wishing you all the same and more!