Asia's biggest night run, OSIM Sundown Marathon is scheduled for Saturday, 1 June 2019.
Running Department is privileged to partner with OSIM Sundown Marathon on its 11th edition of the highly subscribed running event in Singapore to help the participants ace their race.
If you have been joining us for our Run with Pacers program or the weekly Wednesday runs at UOB, the jovial lady that we are shining the spotlight on this week will not be an unfamiliar face to you.
Meet Rachel Yeoh, one of our Sundown Marathon 2019 pacers.
A foodie who simply loves to run, in her words, she will "RUN to eat! Work hard, enjoy later!" Rachel completed her maiden Sundown Marathon in 2012 despite the unexpected Category 1 thunderstorm that persisted throughout the night. Since 2012, she has not missed a single edition!
If you are racing the Sundown Marathon on 1 June 2019,  do join us for the final Run with Pacers this Saturday evening (25 May 2019) 7:00 PM at Parkland Green, East Coast Park!
Meanwhile, read on and find out more on Rachel!
10 adjectives that best describe you
Foodie, spontaneous, old-fashioned, harmless, sentimental, reserved, positive, diligent, logical, resourceful (especially when it comes to food recommendations!)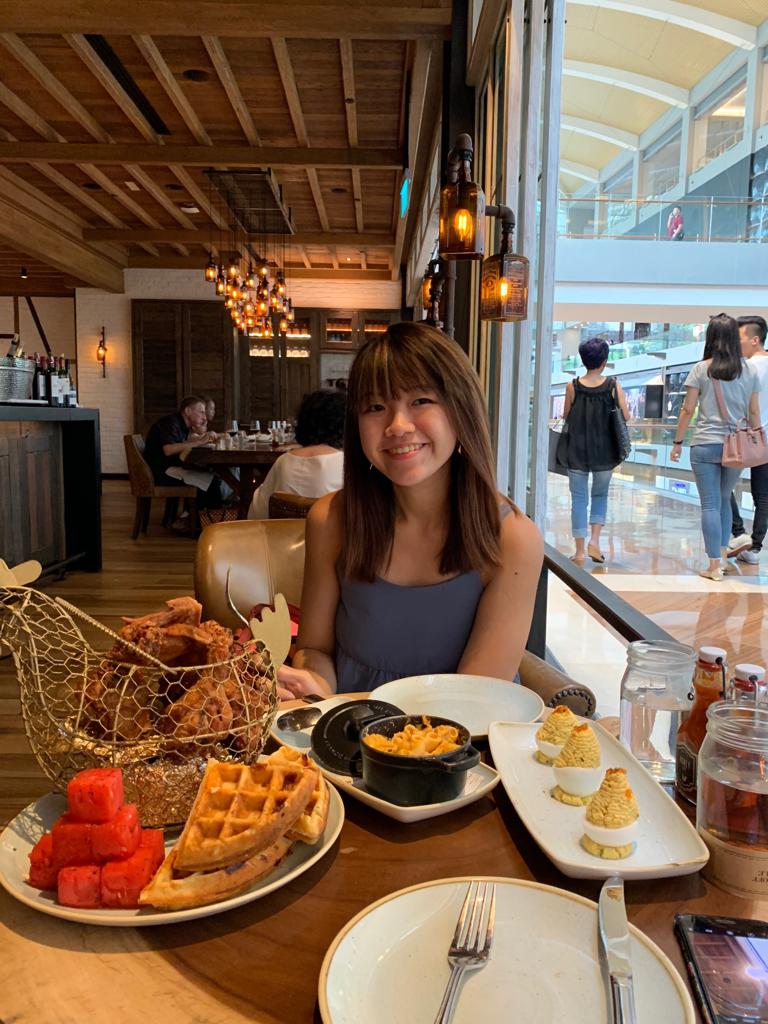 Happy Rachel with her happy food! Photo credits: Rachel Yeow.
Tell us about your most memorable Sundown Marathon experience.
My maiden attempt at running sundown full marathon was at 2012's Sundown Marathon, which I had 'courageously' signed up for, despite never having run further than 5km. That year, it rained heavily throughout the race, and we had to battle both the rain and massive distance. While the rain didn't dampened my spirits, it hampered my vision as I had worn my glasses. The volunteers at the hydrating stations were kind to lend me their dry shirts to wipe my glasses dry so that I could have a clearer vision. It was personally a tough one, due to the lack of proper marathon training. But looking back, I'm glad that I braved the rain and push ahead because I vividly remember how, for the first time, I felt so alive.
What makes you decide to volunteer as a pacer for Sundown Marathon?
Firstly, I will choose running over sleep over and over again. Secondly, Sundown holds a special place in my heart, it's the only running event that I've not missed a single edition of. Lastly, to participate as a pacer instead of a runner this time round will definitely be more meaningful, to help runners complete their races in their respective target timings.
I see that you run to eat more croissants (your one-liner description of yourself in the Sundown marathon pacer profile). Why croissants? 😉
Our paths croissssssants for a reason hahaha. I simply love the buttery fragrance and it's a convenient "on-the-go" snack that you can indulge anytime and anywhere. I only realise how much I love eating bread after my Japan trip two years back, during which I consistently chose bread over sushi, and found myself visiting  bakeries all the time.
What is your typical pre-race preparation like?
Sleep early , hydrate well, and never run with an empty stomach! My typical pre-race meal consists of two slices of bread with peanut spread and banana slices in it a couple of hours before the race.
Which is that one thing that you can't run without?
A reliable rubber band to tie my hair up!  I'm very particular about the type of bands used during long distance runs. It has to be non-slip.
Tell us something about yourself that is not related to running.
I've been going on solo trips since 2016. They aren't running trips, but occasionally, I try to participate in an overseas race. Would love to keep this yearly tradition going. I've yet to plan for 2019's. I welcome any recommendations and suggestions, thanks in advance! 🙂