---
I have just given birth to a baby boy (Shameless me: I think he is quite cute!) and haven't been running for a year in preparation for his birth. I have always stared hard at various Instagram posts of mummies running with a big belly that is dangerously hanging low and wonder, am I going to be that kind of a Mum, since I love to run?
Hello aunties & uncles! 📷 : Fel
Fast forward to today, unfortunately, I did not manage to take running pictures of my huge belly in my running gear due to nausea and pre-term labour so I won't be able to write about "Preggo on the run". I can attest that it is really challenging for those ladies who managed to continue their running journeys. I salute them!
However, I am able to share some simple personal advice on "Mummy Postpartum"!
Kudos to you on bringing a little cute life to the world! Whether it is a natural delivery or c-section, every mummy must rest as you have just accomplished a major milestone. I had my baby via c-section, and personally, I would suggest mummies to wait for at least 4 months and after the doctor has certified you fit to resume/ commence running. After 4 months, you ask yourself, how do I start running again?
Here is my simple routine to get back to running:
First week: Start with a 10 min walk, 3 times a week (you can do this with your baby via a carrier).
Second week: Try increasing your walk to 15-30 mins (Running partner: baby!)
Third week: 1 km slow jog. You may slowly increase your distance by 500m if you feel up to it.
If I feel uncomfortable or any pain in my belly or the slightest discomfort, I would stop the activity. Remember to always listen to your body.
I can assure you that your core muscles will not be neglected during this time. For me, I have been doing my regular squats (to put my baby to sleep, yes I became a human sarong!) and toning my arms via carrying him for numerous hours, he is a 7 kg human dumbell now!
Doing squats with baby! 📷 : Fel
Don't forget to always stretch before and after your run to loosen those knots and tight muscles! In no time, you will be running and feeling as fit as you have been, before you had your happy baby! By the way, this would also work for your partner who has probably neglected their running routine due to waking up in the middle of the night and feeding the baby or changing diapers because of a "poonami" situation!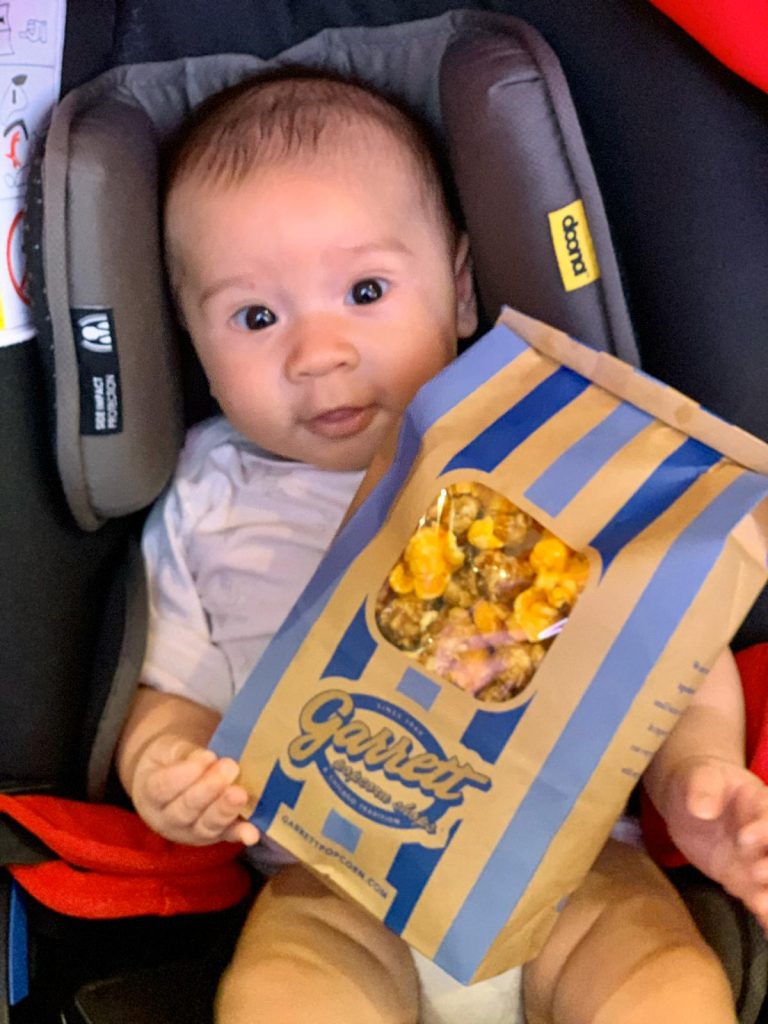 yay! And yes, you have earned the right to some popcorn for starting to run! 📷 : Fel
To the new Mummies and Daddies, congratulations on your new bundle of joy and welcome back to running!