I'm sure many of us will miss running the Standard Chartered Singapore Marathon (SCSM) this year. We have come up with a series of articles to feature some notable pacers from previous SCSMs, as well as for everyone to reminisce the good times.
To kick off this series of articles, we have interviewed two pacers here, who have paced the Standard Chartered Singapore Marathon (SCSM) for more years than some of us have been running! Ngo Tien Leok (known to us as Tien), who has paced SCSM since 2011, and Andrew Lee, who has paced SCSM since 2012. Talk about experience! Read on to find out what these expert pacers have to say.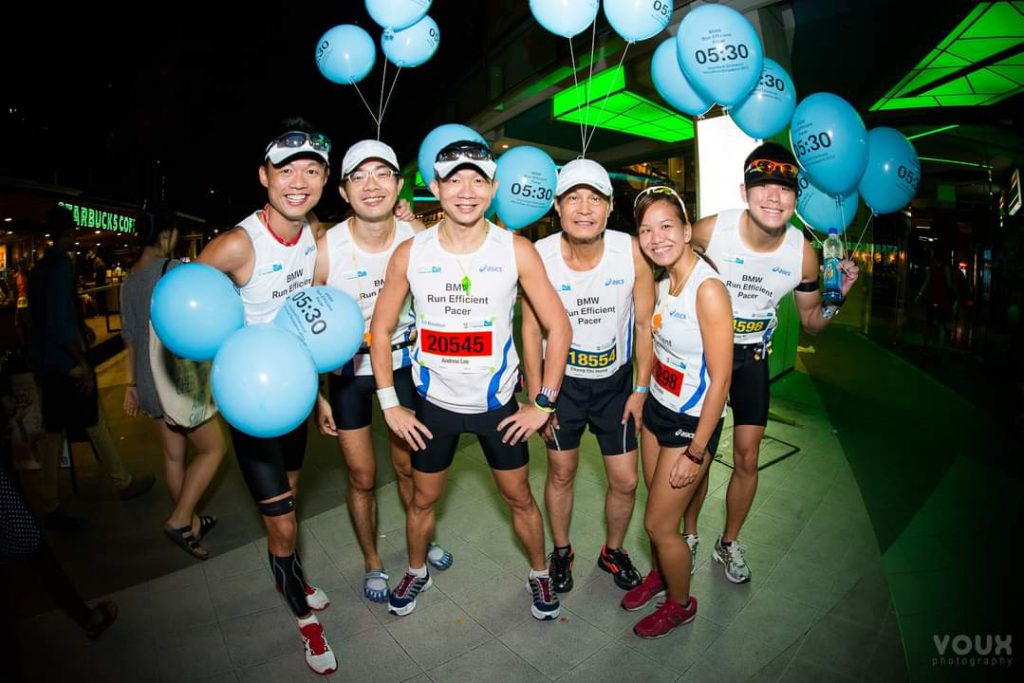 How did you first learn about the opportunity to pace SCSM all the way back in 2011/2012?
Andrew: I got to know about the existence of pacers when I hit the wall at the 35th km mark during my first marathon. A pace group came by and 'picked me up'. They encouraged and cheered me on, all the way till the finish line. I wouldn't have completed my race in 5 hours 30 minutes without them. That got me started to find out more about pacers and pacing. Subsequently, through running friends, I got to know about pacer recruitment.
Tien: I already knew Terence Teo (founder of Running Department), and he invited me to pace with him.
What are some of the memorable moments during your pacer journey?
Andrew: Every year is memorable, some years more memorable than others. I've seen strong pacers who unfortunately fell on race day and I've also seen how they came back the year after to finish strong. I've seen runners who chose to cross the finish line with pacers even though they were capable of completing with a better timing. I've seen the emotional side of pacers who cried because they believed they had not put in their best on race day. I've seen determination of pacers to finish strong despite feeling unwell. Too many memorable moments really, and of course, I don't think any pacer will ever forget our hamster loop (our signature 3km training loops)!
Tien: I think it is great when runners continue to acknowledge and remember us even after races. As a pacer, not only do we help runners maintain their pace, we are also their cheerleaders. After some time, we have ended up with some 'signature' cheers and phrases which we have used at every race. One year, we paced another race as preparation for the big finale which is the SCSM at the end of the year. And during SCSM that year, a runner asked if we also paced an earlier race. We asked him how he knew, and he answered, it was because he recognized our 'signature' cheers and phrases.
Another instance was when a runner particularly remembered my pacing strategy. I usually pace for the 5hr 30mins group. At this pace, although the 'official' strategy is to run at a constant pace all the way, we can also adopt a run-walk strategy. Personally, I prefer the run-walk method, while my team mates will run a constant pace. There was this year where I observed that a public runner was doing the same run-walk as me for the first 10km. I asked him how he knew about this run-walk strategy, his reply was that he had followed me the previous year.
Are there any differences between pacing in the current years versus pacing almost 10 years ago?
Andrew: Not much actually, except that there weren't many run-with-pacers events during the 16 weeks of pacer training in the early years. In recent years, run-with-pacers events start from the second week onwards. While that provide many 'race day-like' practices, new pacers may find it to be a steep learning curve. Mentorship is hence critical to make sure that the art of pacing remains core to all pacers, regardless new or seasoned pacers.
Tien: The biggest difference would be how the public runners from earlier years have become our fellow pacers, and they went on to become team leaders, and slowly 'graduate' to be promoted to faster pace groups.
Having paced SCSM every year since almost 10 years ago, what does it feel like this year when there is no race to pace?
Andrew: I do hope that the pandemic situation improves quickly so that we can get back to having races like before. I'm actually feeling the 16-week vacuum right now.
Tien: RD takes pacing very seriously. There is a 16-week program to prepare the full marathon pacers for the actual race, and on each week, there are two runs. Over the years, this has morphed into other social runs and meet-ups even outside the pacer program. Hence, without these runs this year, I feel a sense of freedom, as well as a sense of loss.
How do you maintain the motivation to pace year after year?
Andrew: I enjoy helping runners to achieve their goals and pacing provides me the means to do it in a structured way. Nothing is more satisfying to see the joy in runners finishing their race in good form. It is also about being able to meet new faces every year, and the bonding journey among pacers and runners through the 16 weeks.
Tien: The 'poisoning' for the next year's pacing assignment starts right at the finish line of every year's race. As we cross the finish line, runners come right up to us to thank us for helping them complete the race in their desired timing. This continues on social media, where appreciation for us pours in. While in this state of euphoria, someone will always come up to me and ask, "So how? Do again next year?" I will always stupidly answer, "Yes." After that, there's no backing out, and the cycle continues.
When races resume, will you be back to pace?
Andrew: My application form is ready for submission!
Tien: Hopefully, if my schedule permits.
Thank you Tien and Andrew for taking time to answer us, and providing such valuable insights to pacing. The runners in Singapore could definitely use their guidance again when race day comes around!