Over the last few weeks our Feature Friday articles have introduced you to some of our pacers and their grit infused success stories.
But whilst parading these pacer's perfection through our articles we might have missed one of the most unspoken pacer experience, which is, what happens when pacers are not able to cross the finishing line in the time they are meant to?
The purpose of a pacer is to get runners to the finishing line in a certain time but what happens when that very purpose distorts?  Some may wonder if that happens at all? Well, let's start by admitting, it happens to the best of us. But almost always, we return stronger.
This article throws the spotlight on two such pacers who had to make some difficult decisions during their pacing assignment during SCSM 2017 but returned stronger and better in 2018.
Let's rendezvous with Jacky and Laine who between them have delivered 12 pacing projects for Running Department.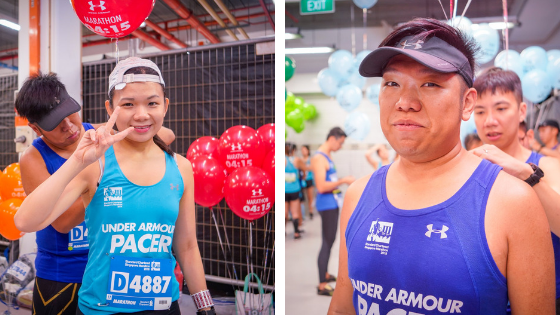 ( Laine and Jacky getting ready for SCSM 2018 )
We asked Jacky and Laine 3 simple questions and in their responses are nuggets of wisdom for you.
Tell us a bit about your pacing experience for SCSM 2017 ?
Jacky: It was a tough race last year. I faced various challenges,  the GPS was not accurate due to the high rise buildings. I also had to run to the toilet multiple times due to an upset stomach, the weather was burning hot as well. The race execution was not the best but I focussed on persevering and completing.
Laine: Last year, unfortunately, wasn't a great year. At some point the GPS went haywire and so the pace was off. I struggled between waiting for my team to finish the marathon together and running ahead to keep up with the pace. I chose the latter as I decided that fulfilling my responsibility as a pacer was more important at that time. Though I came back slightly late, I knew I had given it all I had.
How did it go for you this year for SCSM?
Jacky: Taking the lesson learnt from the previous race experience, this year was a great improvement. We did not face the problems we had last year, and the team was stronger than before. The RD community also continued to provide support and encouragement to each of the runners that kept us spurring on.
Laine: This year surprisingly I felt stronger. Was trying to keep to a slightly faster pace throughout to buffer for the inclines or any extra distances. I made sure I had enough sleep and hydration before and during the race. And it did wonders!
What advice would you give to pacers or runners who didn't achieve their desired outcomes this year?
Jacky: Learn from the experience and make changes to improve the next race. Importantly, don't let the outcome of one race take away the passion for running. After all, it is through challenges that one becomes stronger. Finally, persevere on and never give up!
Laine: I've been running for more than 10 years and have my fair share of good and bad races. The last thing you can do is to beat yourself up after a bad race. Instead, find out what went wrong and focus on preventing it. Every race is a learning experience. Training is not just about clocking the mileage. Rest and recovery are also very important.
---
Kudos to Jacky and Laine for a stronger comeback in 2018!
A pacer's performance changes for better when they don't give up and don't let one bad race define them. Just like 2018 Boston Marathon winner Desiree Linden says,
Stepping outside the comfort zone is the price I pay to find out how good I can be. If I planned on backing off every time running got difficult I would hang up my shoes and take up knitting.
If Jacky and Lanie's strong come back story has inspired you, here is your golden chance to sign up for pacing projects we are currently recruiting for, click on the links below to sign up today!