Under the spotlight this fortnight are our mighty ladies who have been working hard behind the scenes prepping the pacers for the Great Eastern Women's Run (GEWR) 2018 taking place on Sunday, 14 October 2018.
Meet Glendys and Kris (aka mommy hens of GEWR pacers)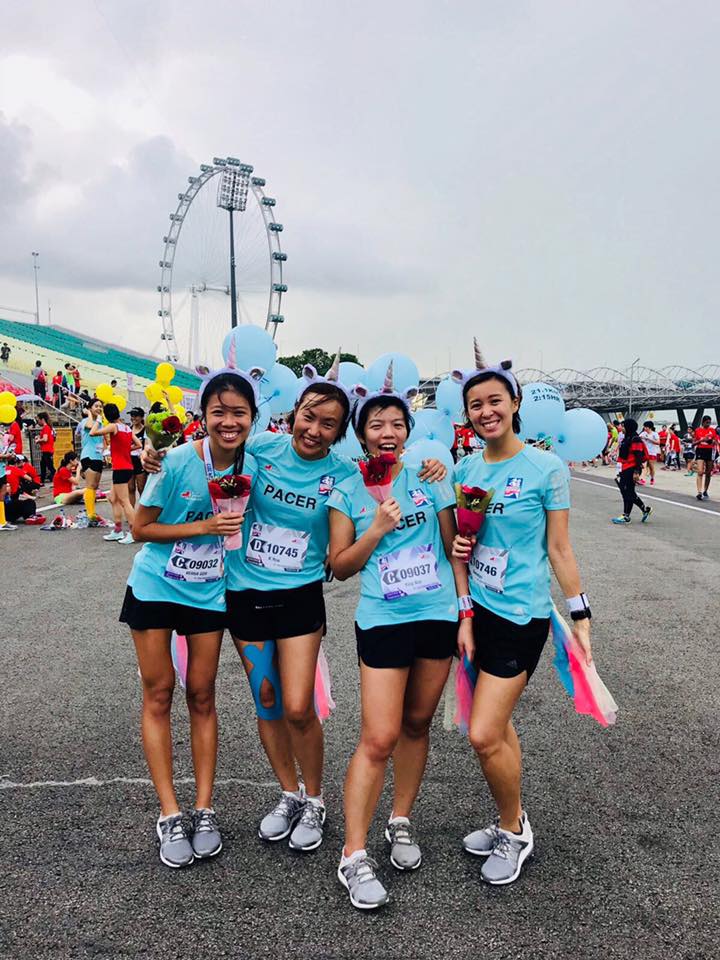 The Mommy hen duo during their Pacing duties for GEWR 2017 ~Kris (second from left) & Glendys (first from right). (Photo credit: Glendys) 
If you have been training with Running Department, you would have not missed this bubbly duo. Their energy levels are infectious and irresistable!
Despite them not donning the pacer balloons this weekend, they will be running alongside GEWR pacers this Sunday.
Watch out for them!
Here are some things we asked Glendys and Kris about running, family, GEWR and the pacer program they led this year.
1. When was the first time you ran in GEWR? What motivated you to continue participating in this race and eventually pacing for the event?
Glendys: Since 2012, every year without a fail, GEWR has been truly an amazing experience. It is a very well organized race, from registration to runner's entitlements, REPC, fringe activities, Race Day and even post-race day activities. And of course the highlight being – All Women's Run!
It was back in 2016 when I achieved my personal best timing in GEWR. I had been working towards achieving a PB but women running along side me played an integral role in keeping me motivated and cheering me to get to the finish line that year.
I told myself that I want to do the same run next year (2017) as a Pacer, to encourage, motivate and cheer on the runners, and to give back to the running community.
Kris: (check medal hanger) 2009. In that year all women races in Singapore were rare. GEWR was the only one that not only was well organised but also emphasized on the health and wellness. It was a women- centric run in every way from their race pack components to the post race activities and of course their all female pacers who left a lasting impression on me. All of these amazing experiences were a catalyst behind my motivation to become a pacer. As a pacer I wanted to  spread the goodness of running to all ladies racing in GEWR.
2. We always see you ladies so upbeat during trainings! How do you ladies stay so energetic?
Glendys: I get my energy from all the smiles that I get from runners in return whenever I give some words of encouragement like 'jiayou', 'keep going', 'great job' and etc to them. The positive, happy vibes, their willingness to share, the joy that I get from Running Department keeps me going.
Kris: It's the attitude and willingness to open up and make more friends. There is so much to learn and share from other runners and I count myself lucky to be surrounded by positive runners and mentors who are willing to share and teach.
3. What is the best takeaway from being the I/Cs (affectionately known as the mommy hens to many of us) of this dynamic group GE Pacers?
Glendys: Friendship – New friends made from fellow GEWR 2018 pacers from all walks of life, the wonderful memories we had over the past 12 weeks of training.
Being more appreciative – Things just don't fall into place by themselves.
Only by being a mother hen I got to know, understand, experience and most importantly appreciate how much hard work, time and effort people like Terence, Tracy, Yew Meng, Roy and other committees have put in behind the scenes for each pacer programme, especially when all this is on voluntary basis.
Kris: Patience and friendship. Every lady has her own unique needs and wants, so we try to help to facilitate in whatever we can. Most importantly, I really learn and feel inspired by the GE pacers who are survivors, warriors, strong and independent women themselves. We really hope these GE Pacers will have a memorable and enjoyable experience pacing for GEWR 2018, so that in turn, they can spread the good to others! Not forgetting we still have 2 fairy Godmas (Tracy & Yew Meng) and lots of unsung heroes who train and guide the ladies along.
4. How do you juggle between managing family, work and runs?
Glendys: Prioritising, identifying what are the important things that you need to focus on and thereafter managing around the remaining things, last but not least, family support.
Kris: Discipline, belief and family support.
5. Lastly, any tips for the Ladies doing the GEWR 2018?
Glendys: Hydrate well and rest well the night before the race. Do not try anything new from now until race day (eg: food, gears). One of the most important things on the race day is your smile. Running is more than speed, PB and distance. It is to be enjoyed, enjoyment is the most underrated and important aspect of running.
Kris: Stay strong and believe in yourself. You are empowered to finish this race strong.
See you at the Races !