In this article, one of our 10 KM pacer Felicia, takes you through her race reflection for GEWR 2018. So, lets get into her mind and find what a pacer's early morning on the race day looks like.
3.45am.
I woke to an angry flash of lightning and a ferocious roar of thunder; and gasped at the thought of months of hard work going to waste because of a thunderstorm.
Yes, 2 months of preparation for half marathon pacers and a month for 10km pacers. Our month-long journey ran through my mind, from the first meeting, the naming of the fantastic 'Team Mario', to the encouraging quacks from Team 2:15 and numerous "jia yous" during our training runs.
A rained out run would be a major disappointment, not only for us pacers, but more importantly for the GE runners who had trained so hard for the race.
I said a little prayer and reached for my phone to wake my fellow pacers from their slumber.
5:30am.
The sheltered national stadium carpark was packed with a bevy of ladies looking anxiously at the heavy clouds. A soft pitter patter quickly became a fierce roar as the rain began to pour. I huddled with a dear friend as we waited, hearts sinking with each passing moment. However, a tiny flame of hope persisted, and as the skies cleared, we breathed a sigh of relief as the half marathoners were flagged off.
6.15am.
Like little squirrels, we fussed over our Mario costumes as we prepared to pace the 10km run.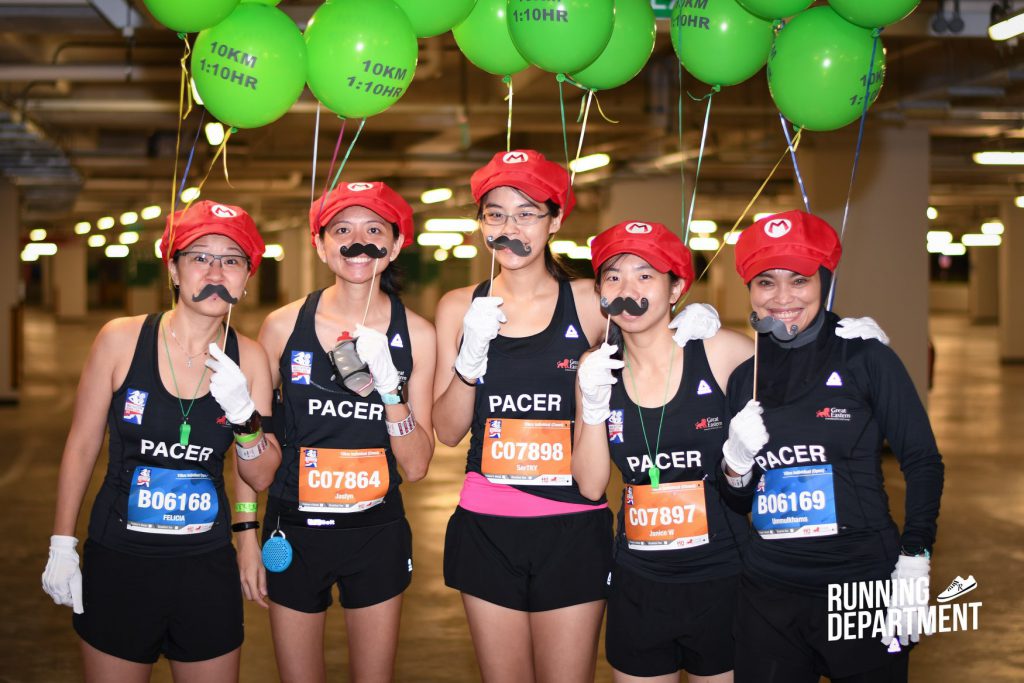 Behind the scenes, our indispensable support team including our 'Mother Hens', Kris, Glendys, Tracy, Yew Meng, Andrew, and of course, 'Godpa' Terence did what they do best. Our gratitude for their encouragement and support goes beyond words.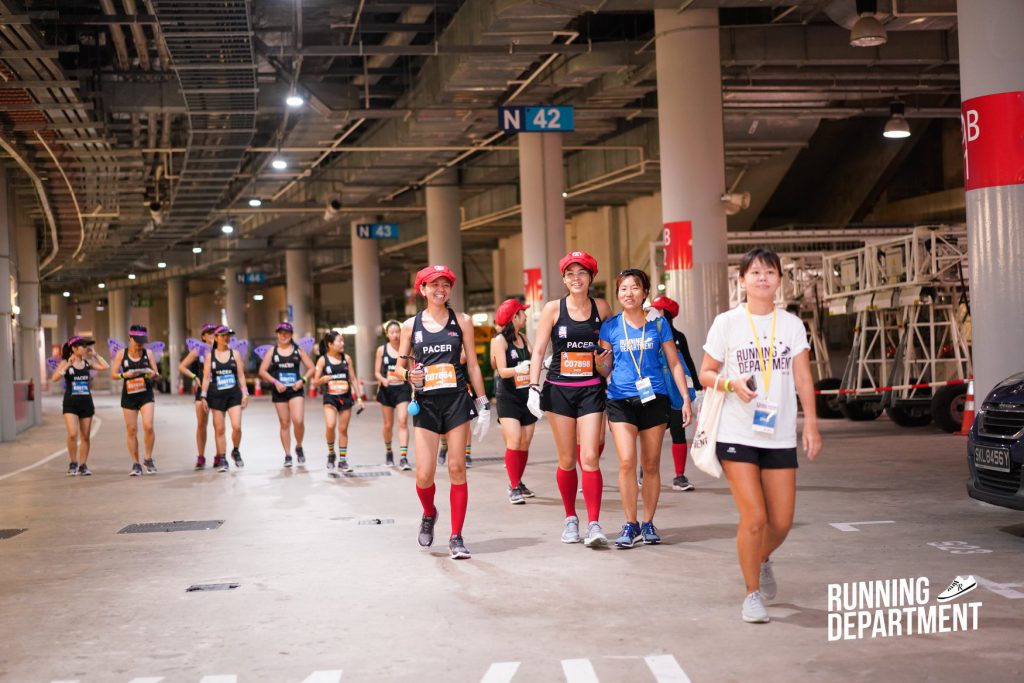 6.45am.
It was Pacer time. We walked to the starting point decked out in our fairy, Mario and colorful gear, ready to rock and roll with our runners. I took in a deep breath as the gun went off. I remember one of my team mates, Serene, saying "Fel, relax. We've got this". I smiled in agreement, gave a final word of encouragement and off we went.
Our month of training as Team Mario served us well, and we cheered, laughed, and sang as we encouraged our GE runners to keep pace. Other teams did the same, and as a family of runners we motivated each other forward. We sang songs like YMCA, inspired one another with smiles and thumbs ups, and laughed a lot.
It wasn't very long before the finish line was in sight, and our cheers increased in volume and intensity as we pushed our runners and others towards the finish line. It was an extraordinary experience to cross the finish line knowing that I hadn't just run the race and achieved a target for me, but for all my new friends as well.
As we caught our breath in the middle of the vast national stadium, the sounds of the carnival seeped into the foreground of my mind and my best friend and I began to roam. Free massages, rainbow cupcakes, drinks, and even a dancing area made me feel immensely grateful to be able to be part of this massive event.
As our young female runners started to come through the finish line, we gathered together as a team to motivate them to 'power up' and finish the race. It was heart-warming to see mothers and daughters running hand-in-hand, giving us high fives as they ran past us. Not long after, the 'Wonder Women' (our last group of pacers) blazed a trail to the finish line, and we cheered and screamed as they finished the race.
But that wasn't the end.
'Godpa' Terence truly made this race unforgettable when he presented each pacer with a lovely flower during our team debrief. Such a sweet gesture to end a perfect Sunday morning!