Writer's note: as a highly popular runcation destination for Singaporean runners, the Gold Coast Marathon (GCM) likely needs little introduction. For this article, I will start off with my personal account of the race and finish with some practical information to consider for overseas runcations and GCM in particular. Feel free to read the entire article or pick the section(s) of your interest!
I try to go on a runcation or two every year, partly for the opportunity to race in cooler climates overseas and partly as an excuse to go on a vacation. In 2017, I was fortunate to 'win' the entry lottery for the Chicago Marathon, but my lottery luck deserted me for the 2018 World Marathon Majors and left me looking for alternative runcation races. I had never seriously considered Australia as a runcation destination, but had heard good things from Running Department folks who had run GCM in the past few years. Since yet another group of RD folks was going this year, I decided to join in the fun and attempt to slay my half marathon personal best (PB) set a few years back.
The ambitious 'A' goal at the start of my training cycle was to finish under 90min, with a 'B' goal of at least clocking a PB. But things did not go smoothly and I had to reset my goals after a very up-and-down training cycle and having to deal with a cough and hip strain in the last two weeks before race day. At the start of race week, I knew that a sub90 finish was realistically going to be a stretch, but still felt that a PB was achievable.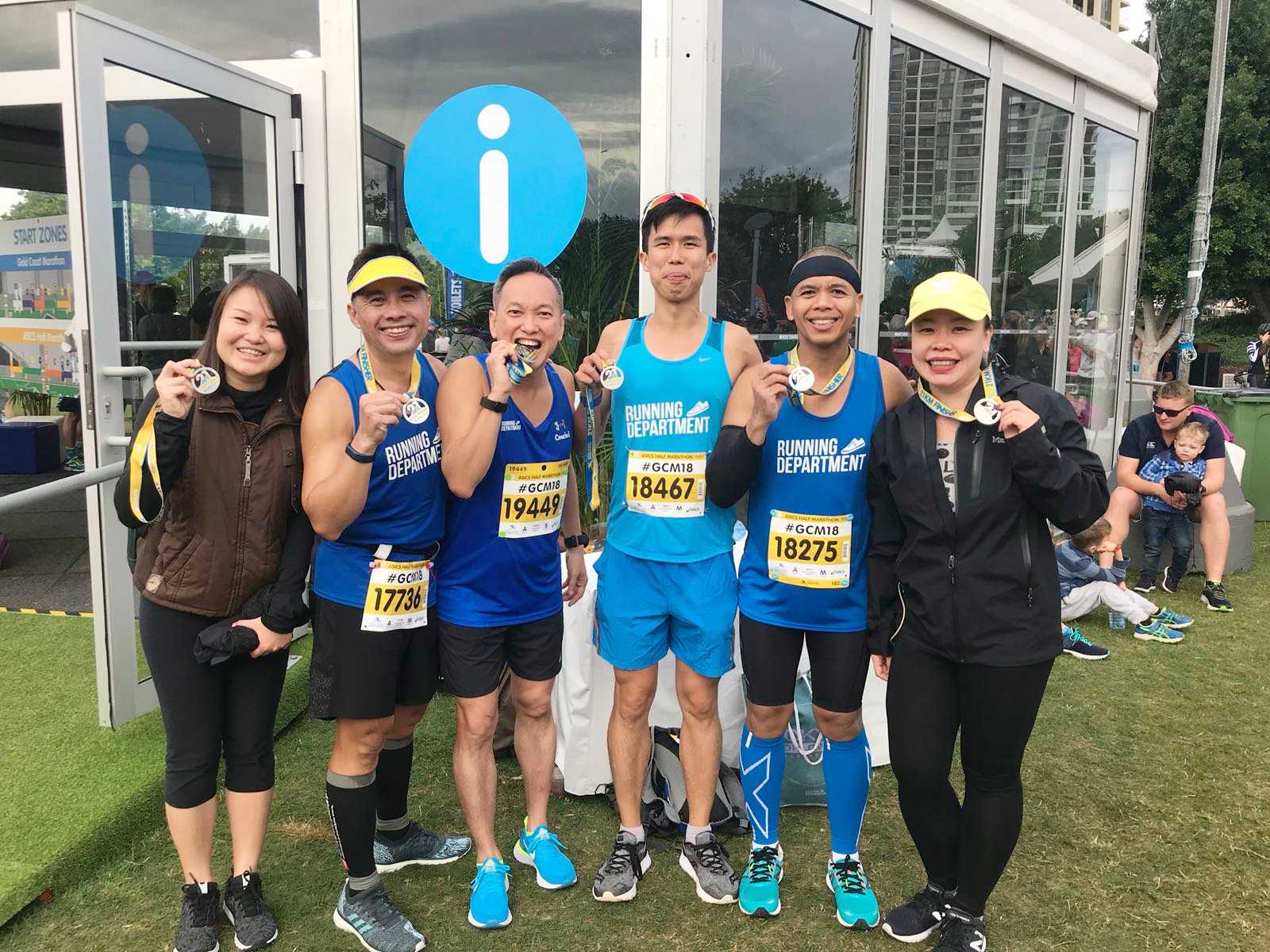 Me and my fellow Running Department folks!
Somewhere over the rainbow...lies the half marathon PB, and that is where it will remain for the foreseeable future
Ok enough pretexting, so how did the race go? Race day brought back memories of running/pacing in Singapore races due to the early start time (6am!) for the half marathon. After waking up and chowing down my usual pre-race nutrition (water, cold brew coffee, Nuun electrolyte and a peanut butter & jelly sandwich), Nicholas and I warmed up by jogging over to the race precinct. We stopped at one of the park's toilets on the way to the race precinct (one perk of walking to the start line!). Bag drop was quick and efficient, and we were able to get into the start pen within 15min of arriving at the race precinct. We met up with Azmi and Terence Low (insert photo) in the start pen for a quick photo, and very quickly, we were off and running.
After the first couple of miles, I knew that sub90 was out of the window, so I readjusted to maintaining the pace for my 'B' goal. At the 10k timing mat, I found myself still on pace for that, and feeling ok. But things started to fall apart around the 9-mile mark, as my congestion started flaring up and affecting my breathing. Knowing that I was starting to fall off the pace and starting to get angsty about it, I decided to ignore the watch and just focus on maintaining the effort level before reevaluating at the 20k timing mat. Upon reaching the mat, I knew that a PB was also out of the window so I decided to just cruise and enjoy the last 1.1k. Soo describes this as 'the elite mentality' but I'm not sure about it LOL
All in all, the entire race experience was excellent, although not quite as enjoyable as my favorite half marathon in Vancouver a few years ago. While my finish time was a little disappointing, it was not unexpected. In any case, there is the saying that running is not about finish times, but about finish lines =)
A few other final thoughts about the race itself:
The course was relatively flat and straight as advertised, except the occasional bridge when we cross a waterway. I would reckon the profile of these bridges is similar to the Helix or Bayfront bridges RD runners are so familiar with in Singapore.
The hydration stations were frequent and well stocked.
Crowd support was rather sparse for the half marathon, except along the last km or so close to the finish line. But this could be due to the early flag off. I went back out to cheer on the marathoners after I was done and there was definitely more crowd support later in the morning during the marathon.
Just ending off with some practical information to consider if you are thinking about overseas runcations and GCM in particular:
1. Signing up for GCM is very straightforward via the race website. In addition, those who prefer convenience can sign up for the tour packages that cover flights, airport transfers, accommodation and other items. The official tour agency has had booths at the SCSM expo for at least the past two years, and you can also find the link via the GCM website.
2. For those who prefer to plan their own trip, Scoot flies direct to Gold Coast on most nights while several airlines including Singapore Airlines flies daily to Brisbane from where you can rent a car and drive down to GC.
3. Renting and driving a car will allow you to explore and do more, but is not a necessity, especially if you are just coming for the race and staying within the Gold Coast area. The G:Rail works well enough for race day and for getting you.
4. Nicholas and I stayed within walking distance of the race precinct (Broadwater Parklands in Southport), but it is also easily accessible by G:link rail or shuttle bus on race day. Most of the other Singaporeans stayed in Surfers Paradise, and I did not hear anyone encountering problems getting to the race precinct on race day.
5. If you are flying to your runcation destination, do carry all your running gear (attire, shoes, etc.) on board rather than putting them in your check-in luggage
6. Preparing for cold weather. Race morning will be cold and you do not want to waste energy keeping yourself warm before you start running (especially the marathoners). So definitely bring a throwaway layer! I bought a throwaway hoodie for like $2 from Salvo's (Salvation Army store) – there are a few scattered around Gold Coast. Those NDP ponchos will also probably work depending on your tolerance of cold.
7. Go for a shake out run (preferably at around the same time/forecasted temperature as the race) to get a sense of your appropriate race attire. It is all right to be feeling a little cold during this shake out run since you will heat up more on race day, but you should not feel like you are freezing!