On 25th Oct, 2019 a British daily, The Indépendant published an article, Life-sized doll shows office workers could have permanently hunched backs in 20 years
The article introduces us to a doll named Emma, who has a permanently bent back caused by sitting for hours in a bad position, varicose veins from poor blood flow, a round stomach caused by a sedentary position, dry and red eyes from long hours staring at a computer screen and other health conditions. The doll was created by office equipment supplier Fellowes to illustrate how office workers may look in 20 years' time if changes are not made to their working environments.
Sadly, given the current situation, this predicted reality may not be 20 years away. With circuit breaker measures in place we practice,  work from home, entertainment from home, connecting with extended family and friends from home and all of that is enabled via a screen. As a result, we have a high probability of looking like Emma much sooner.
We have unwillingly lost the balance between indoor screen time and outdoor screen sans time.  And this new normal urges our attention towards practices which are not just good to do but must do.
In this special circuit breaker feature, our in-house RD physiotherapists, Shufen & Bruno, have come up with easy stretches we can do at our desk, when we have been spending too long peering at our computers, as well as good sitting ergonomics we should cultivate to prevent strains and improve our sitting posture.
Note from the therapists: All stretches should be held for 20 to 30 seconds. Breathe slowly and gently while doing the stretches and please don't ever ever hold your breath! Stop immediately if you feel any intense pain, as you should only feel gentle release. The stretches can also be performed standing up.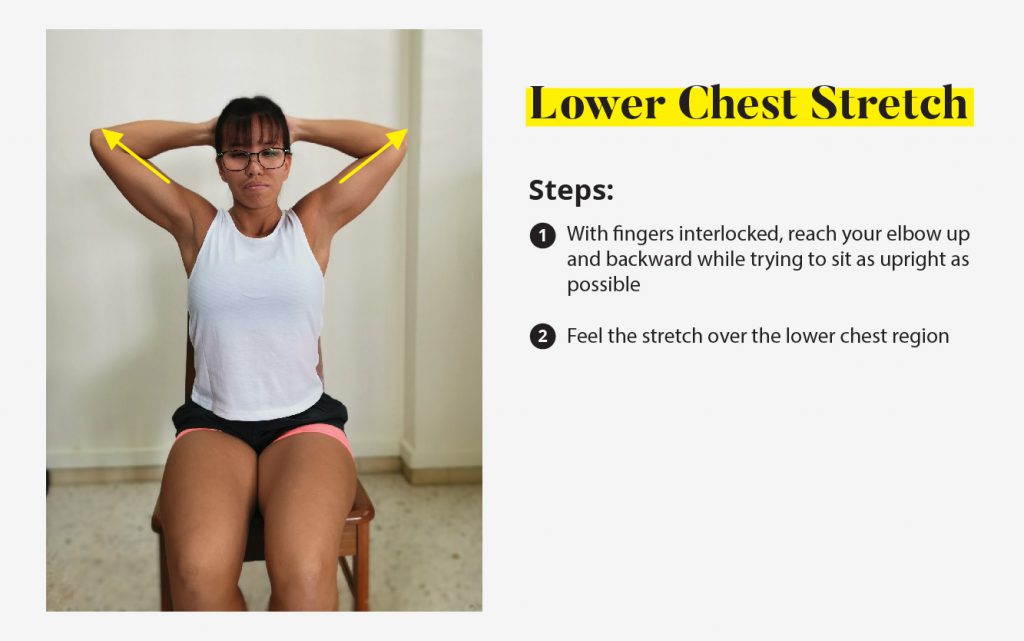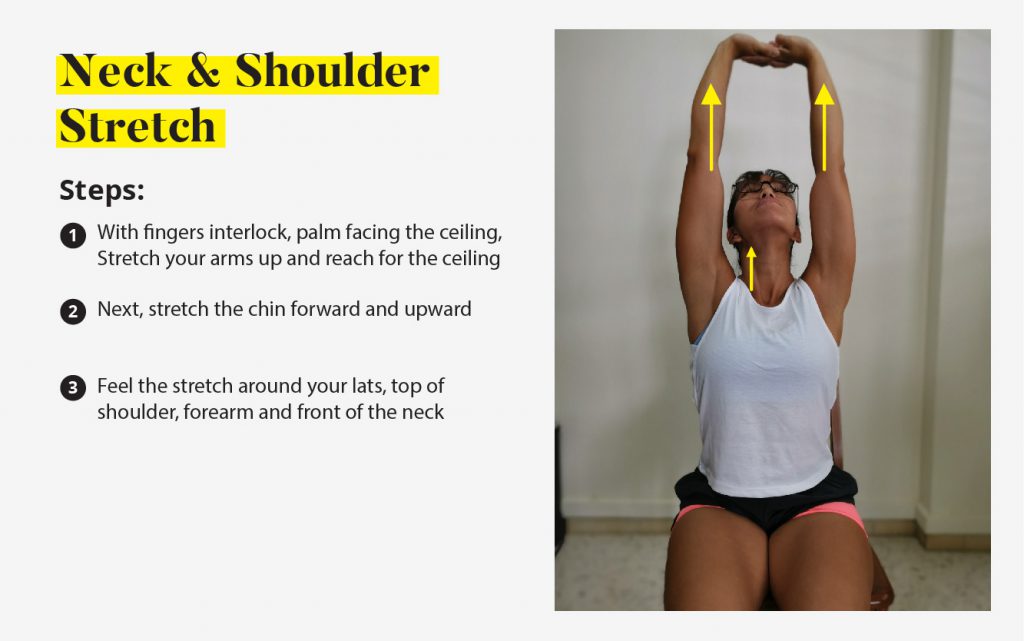 Towel Stretch for Chest, Shoulder and Neck

---
Do's and Don't's of Sitting Ergonomics
Sitting on our chairs for a prolonged period of time can also lead to bad posture and strains. Take regular breaks every 30 minutes or so to do the above stretches. Below are examples of good and bad sitting postures.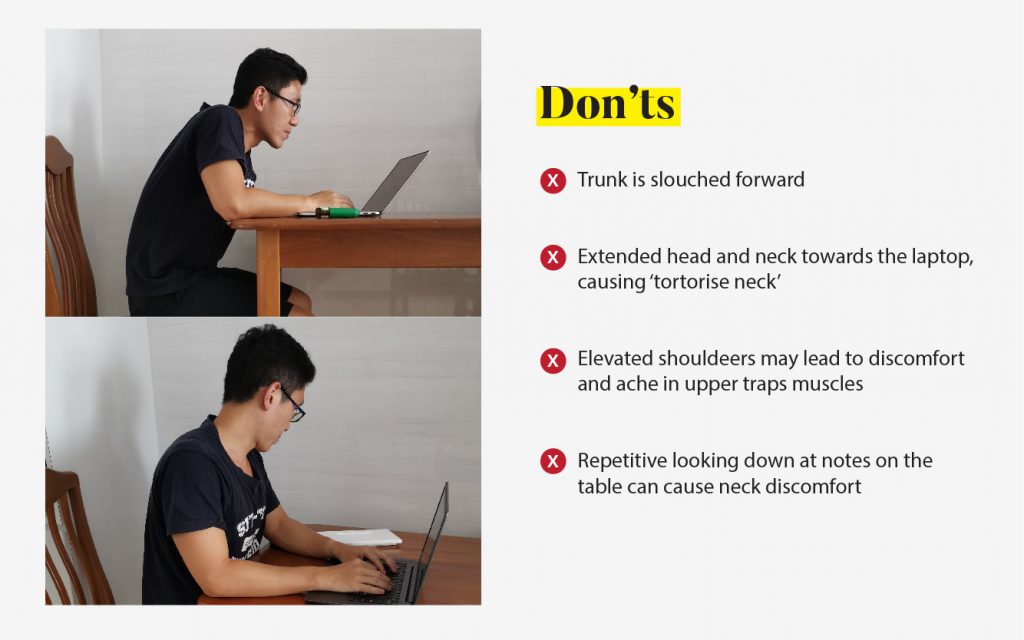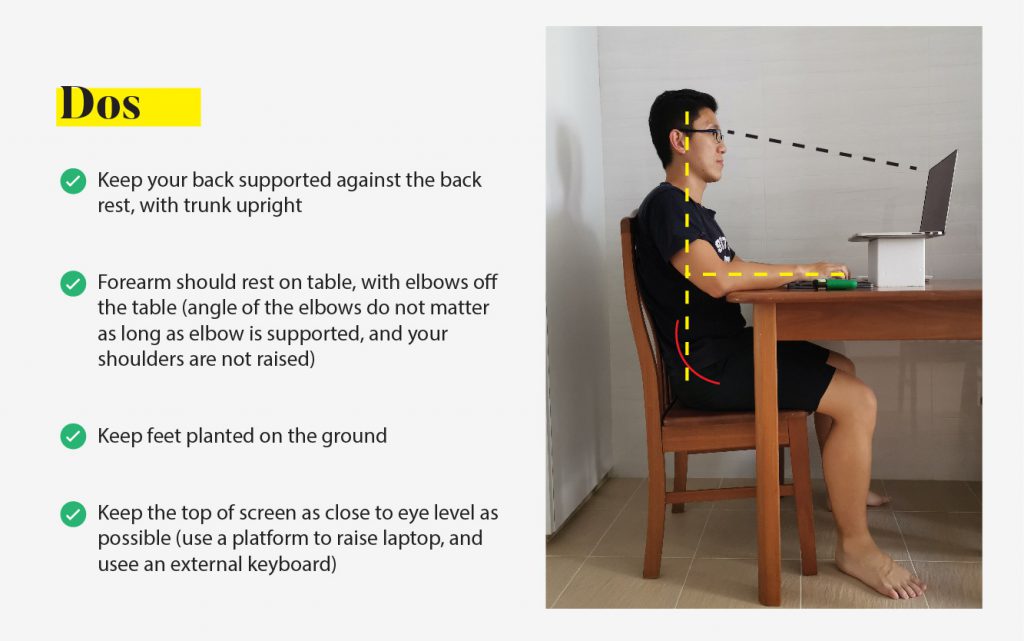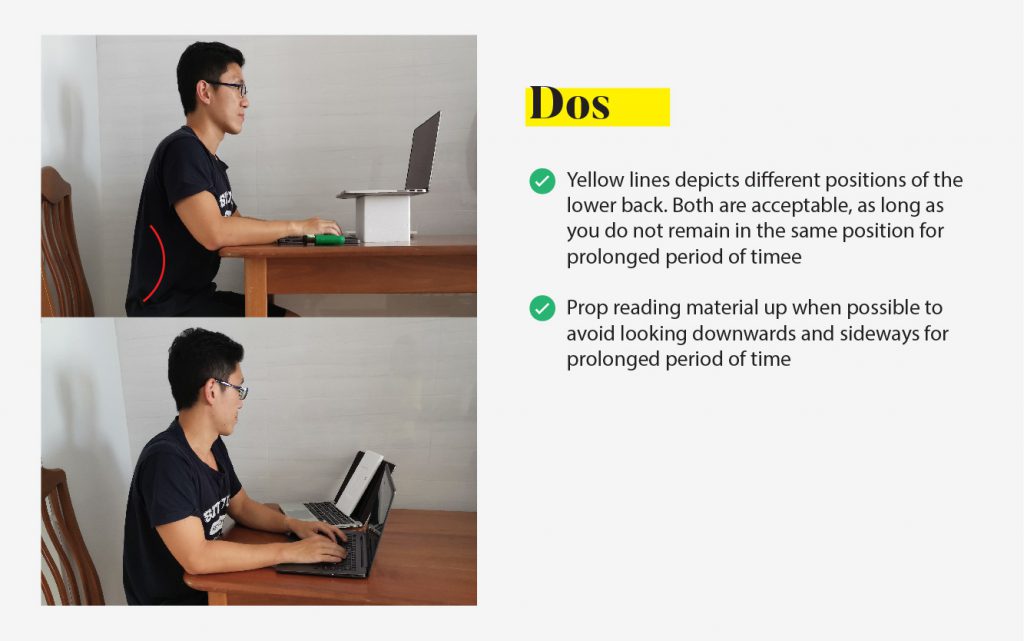 Thank you so much to Shu Fen and Bruno for this special feature.
Stay tune to our social media on Facebook and Instagram for more circuit breaker content!
Stay home and Stay Safe! Remember #StayHomeForSG!
---
About the Contributors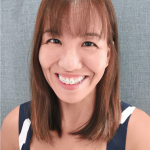 Shufen
Shufen is a junior physiotherapist with work experience in acute hospital and community rehabilitation centre. She has an interest in both community rehabilitation for geriatric and musculoskeletal conditions.
During her free time, she enjoys rock climbing, gymming, swimming, hiking, and running with Running Department  (and of course spending time with her husband hurhurhur)
Bruno Chia
Bruno is an experienced physiotherapist with 8 years of work experience. He has a firm interest in sports physio. His specialties are in neck, back and shoulder rehabilitation, bio-mechanics correction involving sports and functional movement.
During his free time, he does gymming, rock climbing, hiking, and running with Running Department.